It works with 8GB of RAM... more less
Publish date: Jul 17, 2020
Last updated: Jul 17, 2020
Here we go, beside the clickbait title, this test was unexpectedly successful to some extent.
Honestly i didn't think it could start in the first place but… it did!
That's what i've managed do to:
Move around the residential area
Take the metro to the spaceport
Interact with the various display (delivery, airport, …)
Move to the worker district
Buy an armor
Buy food and water
I don't need to say that what it was very far from be considered playable. I think most time i was playing at 6FPS, with some spike at 10-12 and then 💥BOOM💥 It crashed some meter away from my space ship 😭.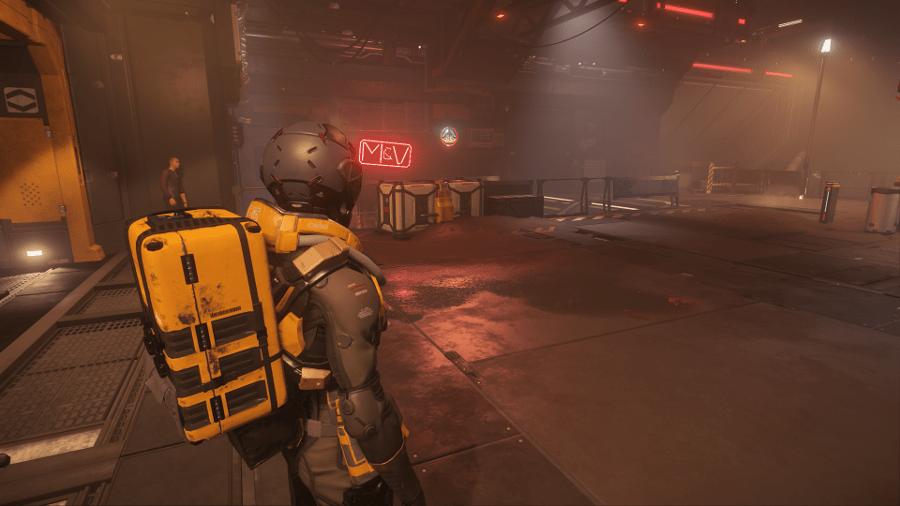 To give a bit more information about my extreme experiment, this is my actual configuration:
System:    Host: avalen Kernel: 5.7.9-xanmod1 x86_64 bits: 64 Desktop: MATE 1.22.2 Distro: Linux Mint 19.3 Tricia
Machine:   Type: Desktop Mobo: Micro-Star model: B350 PC MATE (MS-7A34) v: 2.0 serial: <root required>
           UEFI [Legacy]: American Megatrends v: A.60 date: 07/27/2017
CPU:       Topology: Quad Core model: AMD Ryzen 5 1500X bits: 64 type: MT MCP L2 cache: 2048 KiB
           Speed: 3123 MHz min/max: 1550/3500 MHz Core speeds (MHz): 1: 3106 2: 2975 3: 1510 4: 1516 5: 1438 6: 1437 7: 3317
           8: 2812
Graphics:  Device-1: NVIDIA GM107 [GeForce GTX 750 Ti] driver: nvidia v: 440.100
           Display: x11 server: X.Org 1.19.6 driver: nvidia unloaded: fbdev,modesetting,nouveau,vesa
           resolution: 1920x1080~60Hz
           OpenGL: renderer: GeForce GTX 750 Ti/PCIe/SSE2 v: 4.6.0 NVIDIA 440.100
Audio:     Device-1: NVIDIA driver: snd_hda_intel
           Device-2: Advanced Micro Devices [AMD] Family 17h HD Audio driver: snd_hda_intel
           Sound Server: ALSA v: k5.7.9-xanmod1
Network:   Device-1: Qualcomm Atheros AR9227 Wireless Network Adapter driver: ath9k
           IF: wlp32s1 state: up mac: 50:3e:aa:45:3c:b4
           Device-2: Realtek RTL8111/8168/8411 PCI Express Gigabit Ethernet driver: r8169
           IF: enp33s0 state: down mac: 30:9c:23:3e:5e:bb
           IF-ID-1: br-c9e2430c782a state: down mac: 02:42:af:dc:b6:24
           IF-ID-2: br-f95d2aae1639 state: down mac: 02:42:b4:f4:6d:64
           IF-ID-3: docker0 state: down mac: 02:42:31:4c:4a:ea
Drives:    Local Storage: total: 1.14 TiB used: 300.29 GiB (25.8%)
           ID-1: /dev/nvme0n1 vendor: Samsung model: SSD 970 EVO 250GB size: 232.89 GiB
           ID-2: /dev/sda vendor: Western Digital model: WD10EZEX-00BN5A0 size: 931.51 GiB
Partition: ID-1: / size: 220.39 GiB used: 183.04 GiB (83.0%) fs: ext4 dev: /dev/dm-0
           ID-2: swap-1 size: 7.96 GiB used: 7.5 MiB (0.1%) fs: swap dev: /dev/dm-1
Sensors:   System Temperatures: cpu: 47.0 C mobo: N/A gpu: nvidia temp: 33 C
           Fan Speeds (RPM): N/A gpu: nvidia fan: 30%
Info:      Processes: 295 Uptime: 1h 37m Memory: 7.79 GiB used: 4.03 GiB (51.8%) Shell: bash inxi: 3.0.32

Long short story: this configuration was upgraded during the years without focus on gaming (I still play DOTA but i get a stable 120FPS) so it may be a bit odd, anyway I'm waiting 16 extra GB or RAM1 and a 1650 Super2 to be delivered next week and I can hardly wait!
See you soon!
Made with